Cambium Networks cnReach Terminal Server

Add Serial to TCP/IP conversion on any wireless or wired broadband network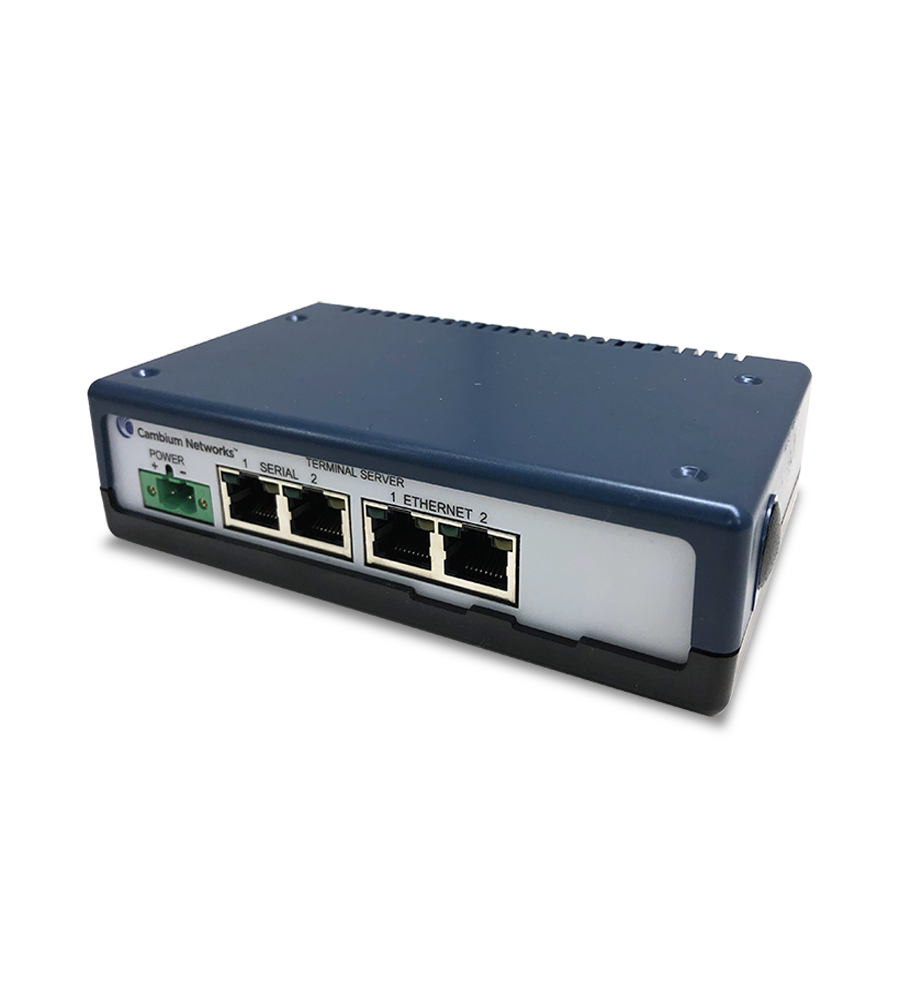 Cambium Networks Products
cnReach Terminal Server
cnReach Terminal Server Two Serial Port
Power Supply, AC to 24VDC, DIN RAIL MOUNT
Click here to jump to more pricing!

Please Note: All prices displayed are Ex-VAT. 20% VAT is added during the checkout process.
Features:
Add Serial to TCP/IP conversion on any wireless or wired broadband network
Single Pane of Glass Management
Monitor/Configure devices remotely using cnMaestro
Flexible configuration enables integration with most serial-based devices in the field today
Integrated MODBUS TCP to MODBUS RTU Conversion
Supports TCP or UDP traffic and Server or Client modes
Daisy-chain multiple units to add more serial ports
MQTT Publish/Subscribe Integration
Reduce traffic by up to 90% vs. traditional polling
Make data available across entire organization
Integrated local MODBUS Polling at the edge
Data Concentrator applications to reduce polling
PLC Local Logic to add intelligence at the edge
Specifications:
Management
Web-based Interface via HTTP/HTTPS
Remote Management via SNMP
User Login Authentication using RADIUS
cnMaestro integration
Support for configuration files, remote software upgrades
Data Capabilities
Packet Handling
Layer 2 bridge and/or Layer 3 static routes VLAN support
Modes
TCP Terminal Server, TCP Terminal Client, UDP Terminal, Multicast Terminal
Other
MODBUS Bridge (MODBUS TCP to MODBUS RTU conversion) Data Concentrator (converges data from multiple MODBUS sources into single polling MODBUS map) MQTT (publish/subscribe data); Sparkplug B compliant
Interfaces
Ethernet Interfaces
2 x RJ-45
10/100BaseT, Full Duplex, rate auto negotiated (802.3 compliant)
Environmental
Operating Temperature
-40 C to +85 C (-40 F to 185 F)
Humidity
95% operating humidity @ 40C non-condensing
HAZLOC
Pending Approval to UL Class 1 / Div 2
Pricing Notes:
All prices displayed are Ex-VAT. 20% VAT is added during the checkout process.
Pricing and product availability subject to change without notice.
Cambium Networks Products
cnReach Terminal Server
cnReach Terminal Server Two Serial Port
Power Supply, AC to 24VDC, DIN RAIL MOUNT